The License Manager function in the Tools menu and the Tools tab of the ribbon, which is only available for administrators or when you choose to activate from the Welcome dialog, allows you to view, add, or remove Stonefield Query licenses.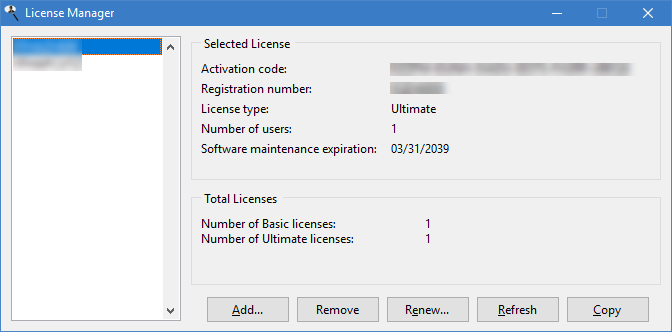 The list at the left shows the serial number for each installed license. To see the activation code, registration number, type and number of users for a particular license, select it from the list; the Selected License area shows the appropriate information. The Total Licenses area shows the total number of installed licenses by type of license.
To increase the number of licenses, contact Stonefield Software Inc. to obtain a serial number for the additional number of licenses you require. In the License Manager, click the Add button. There are a couple of ways you can add a license:
If you have a serial number and an Internet connection, enter the serial number and click the Online button to obtain your activation code immediately. If something goes wrong (for example, if the activation server is down), you get a warning message and have to try again later.

If your computer accesses the Internet using a proxy server, you'll have to tell Stonefield Query about that server by filling in the Proxy Server settings in the Options dialog.

Email Technical Support to obtain an activation code; be sure to specify your serial number and the registration number that appears in the Add License dialog when contacting us. We'll provide you with an activation code; enter the serial number and that code and click the OK button.
To remove licenses, such as when you want to move a Stonefield Query installation to another system, select the license to remove from the list and click the Remove button. You are asked to confirm the license should be removed, and a removal code is displayed for your reference.
If your software maintenance has been renewed, click the Renew button to display a dialog in which you can either manually enter a renewal code provided when you renewed or click the Online button to read the renewal information from our activation server.
Click the Refresh button to contact our activation server and synchronize your license information with ours.
Click the Copy button to copy the selected serial number to the Clipboard. This makes it easier to specify your serial number when requesting technical support.
For more information on how licensing works, see the Licensing topic.
---
© Stonefield Software Inc., 2022 • Updated: 02/01/21
Comment or report problem with topic