The Advanced Report Designer allows you to customize the appearance of your report. For example, you can add graphics such as a company logo, change the color of parts of the report, add lines or boxes, rearrange fields, etc. This feature is only available to users defined as "advanced" in the Maintain Users and Groups dialog and only if they have an Ultimate license.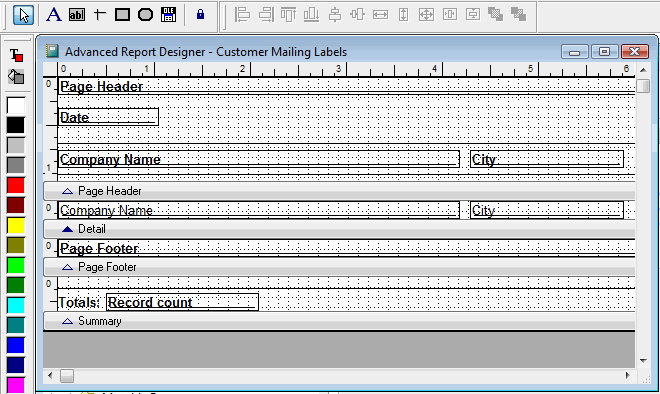 To access the Advanced Report Designer, turn on Advanced layout in Step 5 of the Quick Report or Label Wizards and click the Edit button below that option. You are asked whether you want objects in the report to be auto-fitted for width. Choosing Yes actually runs the report (although no output is displayed) so that each field is automatically sized to accommodate the widest value in the field. Choosing No sizes each field to the defined width of the field in the database.
A report consists of various objects, such as labels, fields, and lines, organized into bands. You can add, move, remove, or change the various properties of objects, either by clicking or dragging the objects or choosing functions from the menu and toolbars that appear when the Advanced Report Designer is open.
The Report Designer window can be moved, resized, or scrolled like any other window. Rulers at the top and left edge of the window and a status bar at the bottom of the application window help determine the size and position of objects.
---
© Stonefield Software Inc., 2022 • Updated: 01/05/21
Comment or report problem with topic